The shipping industry is facing one of the most demanding challenges ever: to find the way to achieve zero-emission navigation. The time to achieve such goal is very short: the next big deadline imposed by the IMO is to reduce the total annual GHG emissions from international shipping by at least 50% by 2050.
Hydrogen is one of few zero-emission solutions that is very promising, but the technology necessary to use it on board is not completely ready. To combine the tight application times and the technological gap, sHYpS is centered around the idea of a swappable storage system for the liquid hydrogen, based on new c-type ISO containers. This solution can enable a full zero emission ship platform in the needed time.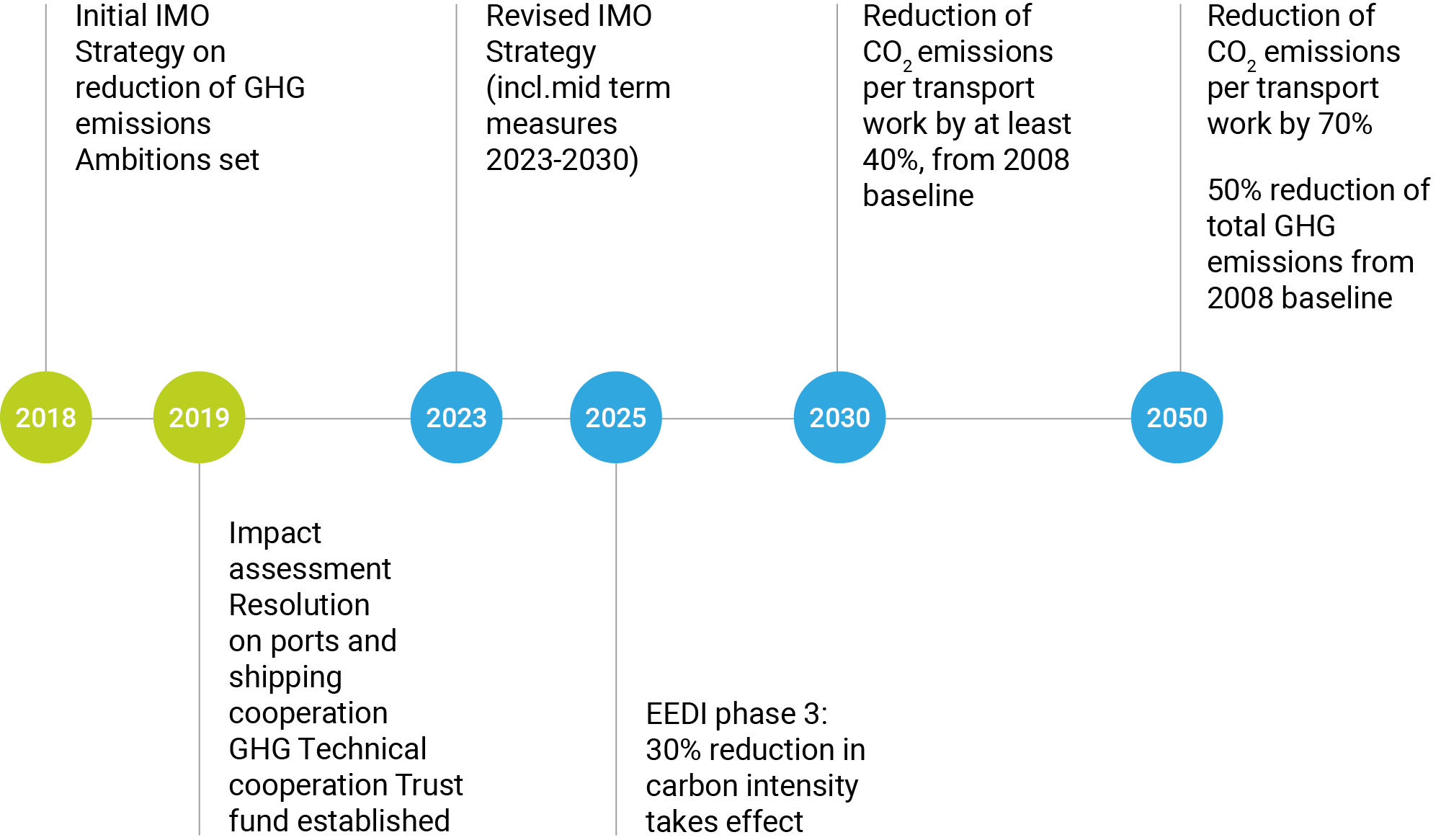 IMO timetable (and non-comprehensive list of activities) to reach GHG reduction targets
Challenges
Challenge 1 – the need for a hydrogen supply-chain for the maritime industry
The supply chain of Hydrogen is in its very first stage of development and containers are still the only fast-track feasible logistic solution, so far. Moreover, only a few companies produce c-type insulated tanks that are used for the transport of hydrogen.
The sHYpS concept aims to upgrade the containers technology to enable to use them as fuel tank, which also requires adding a connection space to transform the stored liquid hydrogen into gas.
More in detail, sHYpS will develop:
A novel hydrogen swappable intermodal storage 40' ISO c-type container, that can be loaded and unloaded by on-board facilities.
The blueprint of a dedicated logistic network, based on swapping pre-filled containers, for the delivery of green liquid hydrogen to vessels.
The complete detailed design of modular containerised powertrain based on optimised PEM Fuel Cells.

The project contributes to the green transition of the marine industry, by sparking the hydrogen supply-chain development, generating demand, while tackling safety and handling requirements. On one hand the project will set up a logistic based on swapping pre-filled containers, on the other hand it will define a perspective scale-up of the storage capacity and the supply, applied to the Port of Bergen use-case. This will allow to kick start a supply-chain without waiting for the full infrastructure to be in place.
Challenge 2 – Lack of pertinent rules to use H2 as a fuel
Specific prescriptive rules and regulations are not yet in place for the use of hydrogen as marine fuel, but according to SOLAS, a design process based on risk assessment in case of unconventional ship can be accepted. The project will adopt a risk-based design process and start the certification of the storage components.

Challenge 3 – First of a kind full-scale storage demo-case
The LH2 container will be demonstrated taking advantage of Viking's newbuilds program. The project will implement and demonstrate the storage technology on one Viking's newbuild fjords cruise vessel, with its complete gas handling and energy management system. Besides, it will prepare a concept design extending to freights in view of new demonstrators by 2027.
During the project, a full – ready to burn – demo will be carried on. Tests will occur during the shakedown cruise by 2026, with a limited power Fuel Cell. However, by integrating the LH2 storage system in the overall design of a 6MW PEM FC-based powertrain, sHYps will support reaching the megawatt level in the marine sector: when the 6MW will be in place, it will allow to already cut 50% of emissions in a 14 days fjord cruise.
Designing, developing, and testing the use of 40ft ISO sized cryogenic container tanks, which can exchange empty for full in ports with minimal adjustments to the port's existing infrastructure, will represent a marine first-in-kind use-case
Objectives
To pursuit its goals, the Specific – Technical and Industrial – Objectives (SOs) of the SHYpS are described below:
SO1Design, build and test a prototype of an intermodal ISO 40 LH2 container with approx.
dimensions D 2,4m x L 12 m, and of its evaporator (by CHART). Moreover, the design and test of the tank connection space (by NAV) shall be developed. This will allow to safely connect the container to the ship's green power plant once on board and be used as a fuel tank by 2025 (by VIKH).
SO2Design the structural integration between the H2 fuel handling and the energy system through the detailed design of a 6MW PEM fuel cell powertrain and have the system ready to be reviewed by Lloyd's, IMO 2030 compliant.
SO3Integrate the LH2 storage system, the fuel handling system and the electric connection to the ship backbone, onboard one Viking's newbuild cruise ship registered under Norwegian flag by 2024/2025.
SO4Complete extended testing at components level to have Lloyd's review, and test the full
system onboard "ready-to-burn" with a reduced (ca. 300 kW) Fuel Cell stack at the shipyard and during the shakedown cruise.
SO5Validate that an LH2 container supply chain is viable (by PLP and PoB) and unlock a zero-emission operation model for large ships as of 2025 without the bottle neck of bunkering facilities, in the short-term.
SO6Demonstratethe scalability of the LH2 system and its logistics along with the reliability of fuel cell stacks for marine application, in order to replace the internal combustion engine and comply with IMO 2050.
SO7Develop a solution which is fully adoptable by many kinds of ship with a conceptual design (by NAV and K17) for 5,000 DWT and 8,000 DWT / 700 TEU cargo and containers vessels.
SO8Increase knowledge and expertise on hydrogen-as-a-fuel pertinent rules for marine application, in order to build the first real zero-emission ship by 2050.
sHYpS impact potential and business
sHYpS will contribute to:
Develop a preliminary design of a fully renewable ship by 2027 (passengers and freight), leaving no residual challenges to an up-scaled solution,
Realise a shorter-term hybrid solution implemented within Viking's next new building program to be delivered by2025 and which is scalable to comply with IMO 2030 and eventually IMO 2050 (50% emissions cut), with a fast-track market potential.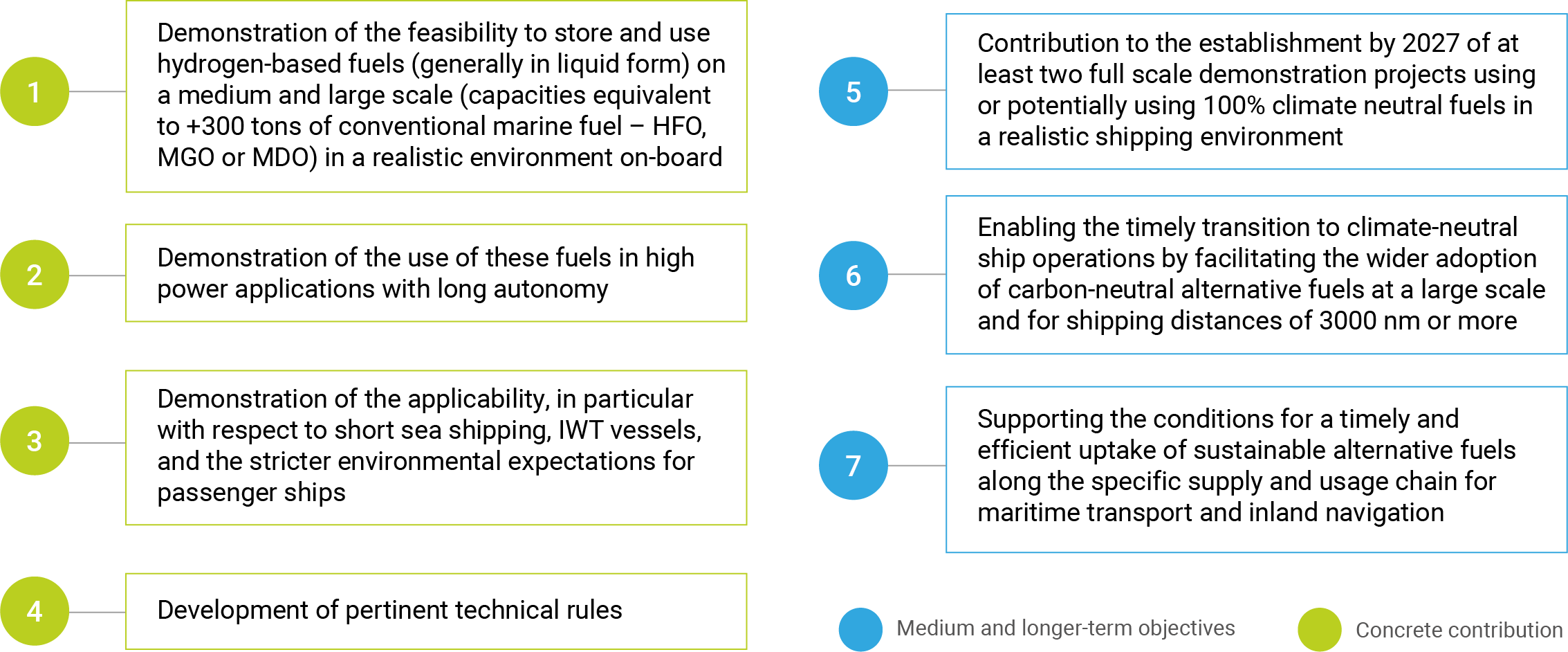 Demonstrate that the IMO roadmap is realistic and achievable using state of the art technologies.
Develop an intermodal LH2 container and a zero-emission megawatt generator product line, to be used in several transport and stationary industries, by 2024/2025.
Project Implementation
The sHYpS concept is carried out through 9 Work Packages, as described below: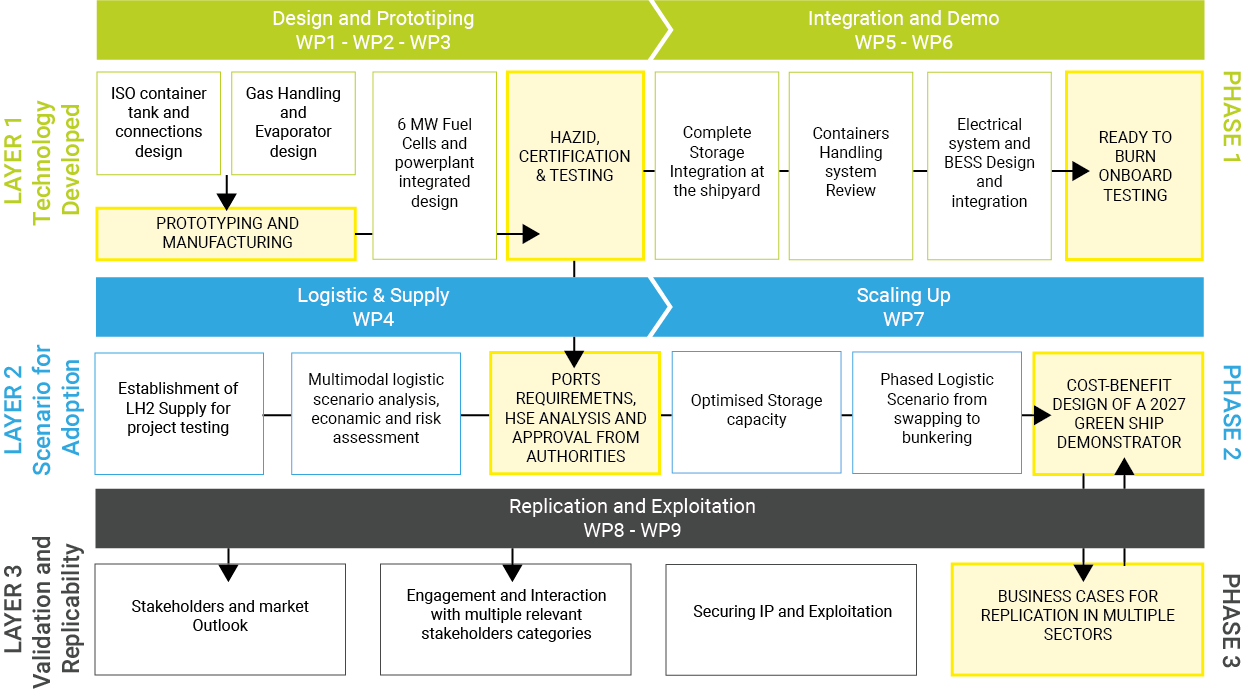 WP1 – DEVELOPMENT OF LH2 ISO STORAGE CONTAINMENT
WP leader: VRV (Chart)
The objective of this Work Package is to design, manufacture, test and certify a containment system mounted in an ISO frame that can be easily loaded and unloaded by on-board facility. Moreover, this WP also includes the design, manufacturing, testing and class review of the evaporation system and of the liquid hydrogen connections. The main activities include the initial Boil Off rates calculation, the insulation requirements definition, tank holding time calculation, safety aspects, double containment methodology, outline specification and sourcing of main equipment and the Outline of Process diagram and control system definition.
WP2 – FUEL GAS HANDLING SYSTEM DESIGN AND INTEGRATION
WP leader: NAVALPROGETTI
In this WP, all the aspects related to the gaseous hydrogen integration onboard will be considered. WP2 will provide a very important know-how that can easily be used for the installation of hydrogen as fuel on any other type of ship. The main objective of this work package is designing the gaseous hydrogen fuel and auxiliary system and design review.
WP3 – FUEL CELLS INTEGRATED DESIGN AND OVERALL ENERGY MANAGEMENT
WP leader: RICARDO CONSULTING ENGINEERS LIMITED
The main objectives of this work package are:
Design of the on-board PEM fuel cell based multi-MW power plant
Development and testing of a power plant sub-module (300 kW)
Overall ship energy flows analysis and optimization
WP4 – LOGISTICS & HANDLING DESIGN
WP leader: HYPULSION
The purpose of this WP is to define an integrated logistic network for the delivery of liquid green hydrogen to vessels, taking into considerations all regulatory, technical, logistic and economic constraints.
WP5 – OVERALL ELECTRICAL DESIGN & SHIP INTEGRATION
WP leader: JEUMONT ELECTRIC
This work package aims at designing the overall electrical system of the power plant and of its control system.
WP6 – LH2 STORAGE SHIP INTEGRATION, TESTING AND DEMONSTRATOR
WP leader: NAVALPROGETTI
In this WP, all the aspects related to the liquid hydrogen handling and plant arrangement will be considered. The main objective of this work package is onboard demonstration of LH2 storage and distribution system.
WP7 – UPSCALE OF THE SOLUTION – ROAD TO 2027 DEMONSTRATION
WP leader: KONTOR 17
The aim of this WP is proving the feasibility and economic viability of an upscaled C-type containment system based on the ISO 40' container to demonstrate the achievement of zero-emission navigation. WP3 will demonstrate the upscale potential of the container solution to reach up to the equivalent of 300 tons of standard fuel and avoid major residual challenges for its development in a next gen demonstrator to be prepared by 2027.
WP8 – DISSEMINATION, COMMUNICATION AND EXPLOITATION
WP leader: PNO
The aim of WP8 is to raise awareness about the project, identifying and implementing diverse strategies capable to maximize such an awareness and optimise the go-to-market potential of the Key Exploitable Results, targeting stakeholder and general public as well.
WP9 – PROJECT MANAGEMENT
WP leader : NAVALPROGETTI
The aim of the WP is to manage and administrate the work carried out in the project, manage the quality control, the financial and thematic reporting as well as to organize communication among project partners, the associated members, and the stakeholders in general.